The equestrian space is filled with individuals who are looking to grow their skills both for casual riding and competition. These budding equestrians are often in search of mentorship and learning opportunities from experts who have forged successful careers and are eager to spread knowledge to the next generation of riders and trainers.

Freddie Vasquez is one such equestrian professional who has dedicated his expertise to teaching others about horse riding, training, and the competitive equestrian space. He recognizes the importance of helping others grow their acumen and learn from the insights of others to build on their passions for equestrian sports, and he hopes to provide high-level resources that will motivate and inspire budding equestrians looking to learn more.

About Freddie Vasquez JR

Freddie Vasquez JR has built a reputation over the years as an equestrian athlete and international grand prix show jumping trainer. For three decades, Freddie has represented his home country of Puerto Rico in competitive circuits such as the 2016 Pan Am Games in Toronto and the 2014 Central American and Caribbean Games while simultaneously training the next generation of talent at his farm. Most recently, Freddie Vasquez JR announced that he will be participating in the FEI World Equestrian Championships, where he will be representing Puerto Rico. Notably, this is the first time that Puerto Rico has been represented in the games.

Beyond riding, Freddie Vasquez JR has explored various other endeavors within the equestrian space, the most notable being opening Messenger Hill Farm with wife Jodi. Messenger Hill Farm is a Mettawa, Illinois-based facility has been connecting talented riders with high-quality, competition-ready horses since its founding in 1999. Jodi brings her AA Championship hunter ring experience to the farm while Freddie brings his FEI level showjumping experience, combining to create a comprehensive program that has produced numerous champions in riding and hunter circuits.

Messenger Hill Farm provides a wide variety of services to train riders such as riding lessons, boarding, training for competitions, and horse acquisitions that match riders with quality horses. These services create a comprehensive equestrian program that is suitable for individuals with a casual interest in horse riding up to those who have goals to become competition-ready professionals in the space. Messenger Hill Farm has become well-known throughout the industry for its team's dedication to providing quality training and enjoyable experiences for riders, and Freddie and Jodi work tirelessly to ensure that clients hone skills that will serve them for years to come.

Freddie Vasquez JR Explores Qualities that Prepare New Riders for Equestrian Competitions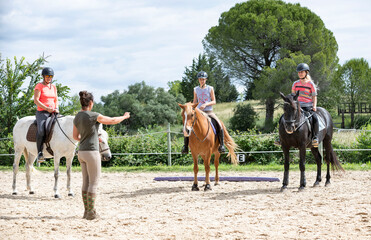 As a professional showjumper and trainer who owns a training facility, Freddie Vasquez JR is frequently asked questions pertaining to the equestrian space. One of the most common questions is what traits he believes best equip a budding equestrian to succeed in competitive circuits. Freddie Vasquez recognizes that the question is an interesting one because there are dozens of characteristics that prepare new riders for the rigors of competition and, here, he includes a short list of some of the most helpful.

Persistence

Persistence is one of the most important qualities of a new equestrian for a variety of reasons. After all, every rider starts somewhere, and the beginning stages of learning the ropes can have many obstacles along the way. Freddie notes that one of the biggest first tests of persistence is the first time a rider falls off of their horse. Having the courage and persistence to get back to the process is a marker of a future success. Persistence will also help riders work efficiently with ready horses which can be a challenge for some near the beginning of their journey.

Patience

Patience is a virtue in many spaces and equestrian sports are no exception to this rule. Even the most well-trained, competition ready horses have minds of their own, and any great rider will need to practice patience to connect with them and work together to reach their goals. Establishing a bond with your riding horse is crucial for being successful in competitions, but it also has a very important place in casual riding experiences as well. Patience helps riders build these bonds, maintain them, and effectively handle any potential obstacles along the way.

Courage

It is no question that working with an animal as large as a horse requires great courage. Freddie Vasquez JR speaks to how trusting one's safety to a horse requires a level of confidence and courage and can propel them to new heights within competitive circuits. Courage is also vital for competition because it helps riders realize the confidence to compete at a high level against some of the most prolific talent within equestrian sports. Embodying confidence will keep riders from being psyched out by the competition and will inspire them to continue to hone their craft.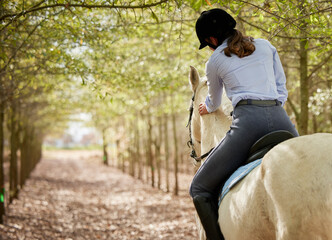 Stress-Management Skills

Horse riding is often used by its practitioners as a means to escape some of the stresses of our normal lives, but this does not mean that the space does not have challenges and stressors of its own. The equestrian space can include tough competitions, various expenses, unplanned situations, gossip, injuries, and a myriad of factors that can contribute to stress among riders. Stress can also be felt by the horses, and a lack of proper stress management can impede ones ability to ride or guide their horse efficiently. The best riders will eventually develop techniques that help them through stress and keep them motivated through competitions. It is not about not experiencing stress necessarily, but accepting it as a natural part of the process and having the ability to move forward.

Willingness to Learn

Not even the best riders enter the space with all of the knowledge necessary to succeed at a high level from the get-go. Willingness to learn is what separates good riders and great riders who will eventually reach the highest levels of competition. Riders will need to listen to insights and tips from seasoned veterans and mentors and even be willing to learn from their competition in especially fierce circuits. A willingness and desire to learn more is what will drive good riders to become the best that equestrian sports have to offer.

More from Freddie Vasquez JR

Freddie Vasquez JR recognizes that the equestrian space is extensive and there are many people that are interested in learning more about the intricacies of horse riding, training, maintaining a stable, and competing. Freddie Vasquez JR hopes to update this website frequently with various resources that break down topics within his industry. Future posts from Freddie will cover topics such as what to look for in a horse trainer, tips for taking competition to the next level, and qualities that will prepare budding equestrians for success in the horse riding space.

Do you want to learn more from a seasoned veteran of the equestrian space such as Freddie Vasquez JR? Check this website for more insights and resources.